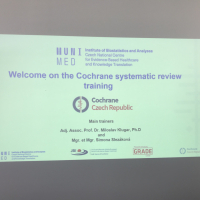 After a long time, we are happy to organize our Cochrane SR Training face to face and welcome participants in Brno at Masaryk University.
The course is held from 14 - 16 March with 8 participants (some of them also from abroad).
Participants will get an overview of systematic reviews. Also, they will find out what Cochrane review production tools are used and they will learn about Cochrane Library.
They can be able to identify the role and contribution of the SR in evidence-based healthcare, and they will be able to critically evaluate scientific studies and reviews. 
This workshop consists of the following sessions:
Introduction to Evidence-based Healthcare and the Systematic Review of Evidence
Conducting Systematic Reviews of Quantitative Evidence
Protocol presentations